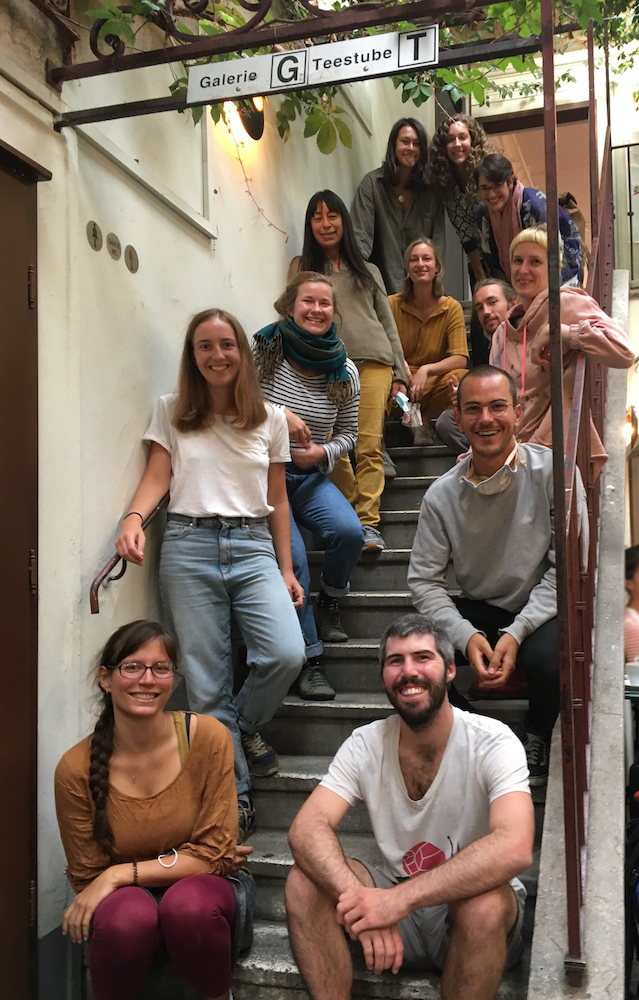 Some people from the organising team on a seminar day in October 2020
Degrowth Vienna is an association that was founded in 2018 for the organization of the Degrowth Vienna 2020 Conference on Strategies for Social-Ecological Transformation. It has since developed into a dynamic organizing team (the "Orga Team") of 20-30 members and has sprouted further projects.
As Degrowth Vienna we aim to bring the idea of degrowth into political spaces and organizations in Vienna as well as advance the understanding of and engagement with strategy within the degrowth movement. Degrowth Vienna stands for social and environmental justice, and global solidarity and equality. We strive to be self-reflective and critical of who comprises the degrowth movement and recognize the need for more internal diversity and intersectional approaches.
For us, degrowth is a radical critique of the dominant political-economic system; it is additionally a utopian vision and a political process (for more on degrowth c.f. here). Degrowth is both the red thread that ties our projects together and also establishes the principles that our organizing builds on. Degrowth is, thus, not just an idea, but also practical, political, place-based and has real transformative potential.
The Degrowth Vienna 2020 Conference
The Degrowth Vienna 2020 Conference's focus on strategy was unique as was the emphasis on linking bottom-up initiatives with organizations and institutions. This resulted in the creation of a small but expanding Vienna degrowth web, including representatives of nearly all of Vienna's public universities but also unions, associations and local media (for a full list c.f. here). Our conference intended as an in-person event was adapted to an online format due to COVID-19. The online format had an impressive 100 sessions and over 4000 registered participants, which was a great and unexpected success.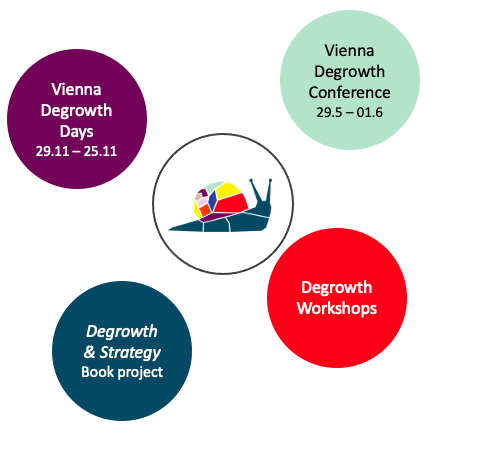 In fall 2020 the Orga Team was undertaking three new projects, which included an event – 'Degrowth Days', a book on strategy & degrowth, and a series of workshops.
The Vienna Degrowth Days take place from 20 – 25 November 2020, and include a series of workshops, walks, presentations, and discussions on the topic "Strategies for Degrowth". Due to the current Covid-19 restrictions all the sessions have to be online. The aim is providing a space to discuss, exchange, and learn.
The book project Degrowth & Strategy highlights the role and importance of strategy in the degrowth movement, selects and builds on contributions from the conference, and strives to provide a meaningful addition to the literature on degrowth. It will be published in the second half of 2021.
The workshop project aimed to build up alliances with different actors on other levels than just civil society to enable sustainable social-ecological transformations. It intends to broaden the perspectives of societal actors to degrowth issues and create spaces for Degrowth Vienna to learn from other perspectives. 
A central pillar of our organizing structure but not a project per se is the ComCare working group. It is responsible for internal communication and care tasks within the Orga Team of Degrowth Vienna. The ComCare working group organizes activities that include mediation, reflections, retreats, and is responsible for internal communication.
The Orga Team is supported by members of the conference's Advisory Board, which include academics, members of civil society organizations, and expert practitioners working on (or close to) degrowth. Together, the Orga Team and the Advisory Board form Degrowth Vienna.
Lastly, we are a dynamic organization with changing goals and strategies to achieve these goals, which opens the possibility for a diversity of more projects to be initiated and developed in the future.
To find out more about what we do, ways to get involved or to collaborate, contact us at info@degrowthvienna.org!