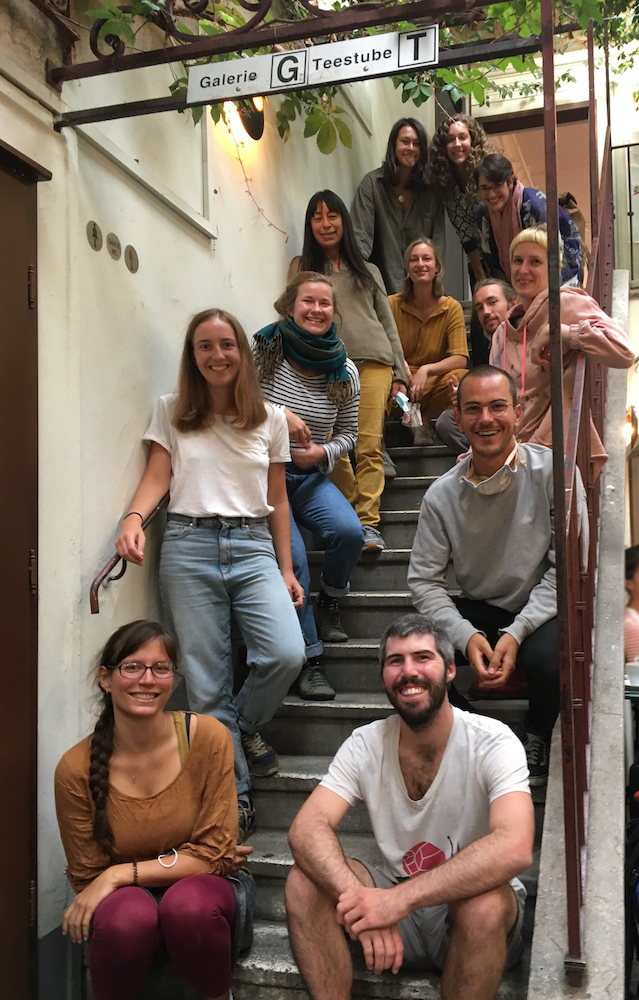 Some people from the organising team on a seminar day in October 2020
Degrowth Vienna's first objective as a collective is introducing the degrowth perspective into political and societal discourse around responses to the multiple crises in international academic discourses, political spaces and organizations/institutions in Vienna.
Our second objective is to bring forward the engagement with the role of strategy within the scientific and activist discourses on degrowth and social-ecological transformation more broadly. Alongside these objectives, we strive to be self-reflective and critical of who comprises the degrowth movement and recognize the need for more internal diversity and intersectional approaches.
Degrowth Vienna is a collective of activists, young scholars, organizers and professionals that are active in Vienna (Austria) but also beyond. Vienna has developed into a hotspot in Europe for research and activism on social-ecological transformation and degrowth. Our backgrounds are in a diversity of academic disciplines including Social Ecology, International Development, Ecological Economics, Political Science, and Sustainability Sciences. Further, most of us have experience in social movements, self-organized projects, and alternative initiatives in the city.
For us, degrowth is a radical critique of the dominant political-economic system; it is additionally a utopian vision and a political process (for more on degrowth c.f. here). Degrowth is both the red thread that ties our projects together and also establishes the principles that our organizing builds on. Degrowth is, thus, not just an idea, but also practical, political, place-based and has real transformative potential.
Activity Reports 2021 & 2022
Degrowth Vienna was active in different projects and forms in the past years. Therefore, we decided to publish annual activity report with an overview over projects, workshops, finances and a lot more.
The Activity Report includes general information on the association's purpose and goals, details on our two big projects (Degrowth & Strategy publication, Solidarische Postwachstumsstadt), efforts of the public relations working group, our participation in the political discourse in Austria, details on the new TRANSREAL project (in cooperation with WU Vienna and Umweltbundesamt), a summary of our finances, an outlook for the year ahead, and an overview of the team.
Degrowth Vienna developed profoundly since organising the 2020 conference and we now have many different activities that together support us in our collective goals. Additionally, we are prioritizing to establishin ourselves as a stable organisation with decent renumeration for our paid positions. This activity report, our first, gives insight in the projects and activities carried out in the year following the conference.
The Degrowth Vienna 2020 Conference
The Degrowth Vienna 2020 Conference's focus on strategy was unique as was the emphasis on linking bottom-up initiatives with organizations and institutions. This resulted in the creation of a small but expanding Vienna degrowth web, including representatives of nearly all of Vienna's public universities but also unions, associations and local media (for a full list c.f. here). Our conference intended as an in-person event was adapted to an online format due to COVID-19. The online format had an impressive 100 sessions and over 4000 registered participants, which was a great and unexpected success.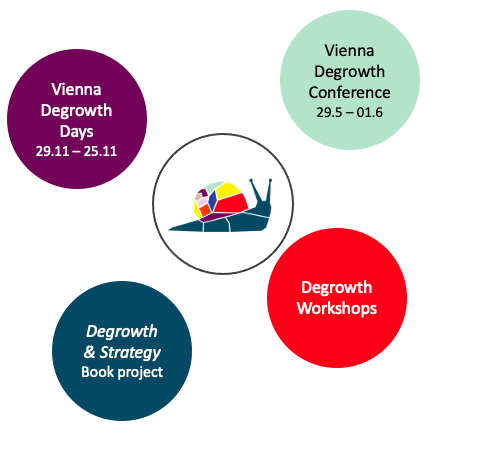 Projects since the conference
Since the conference the Degrowth Vienna team undertook several new projects. Some of them are still going on, others are already completed.
The Vienna Degrowth Days took place from 20 – 25 November 2020, and include a series of workshops, walks, presentations, and discussions on the topic "Strategies for Degrowth". Due to the Covid-19 restrictions all the sessions had to be online but the engagement was rich and fulfilling nonetheless. The aim of the event was providing a space to discuss, exchange, and learn.
The book project Degrowth & Strategy has been initiated in fall 2020. It highlights the role and importance of strategy in the degrowth movement, selects and builds on contributions from the conference, and strives to provide a meaningful addition to the literature in degrowth research on strategy. It will be published in June 2022 with a series of events, podcasts, and eventually a reading group as follow-up activities – you can stay updated here on those activities.
The workshop project aims to build up alliances with actors based in Vienna on various levels. It intends to broaden the perspectives of societal actors to consider degrowth issues and create spaces for Degrowth Vienna to learn from other perspectives.
In the project "Solidarische Postwachstumsstadt Wien" we aim at relating the degrowth discourse to spatial and social struggles in Vienna.
Apart from these specific projects we many other smaller activities and take part in events, discussion rounds, and research projects like the Klimafonds research project TRANSREAL together with the Vienna University of Economics and Business (WU ) and the Environmental Agency Austria (Umwelbundesamt). You can find more info on these activities in our Annual Report 2021.
Degrowth Vienna is broadly composed of three groups: active members, supporting members and the advisory board.
Active members are the central part of the organization and are mostly involved in different working groups and projects on a voluntary basis. Working groups such as 'Finance' or 'Awareness' are cross-project activities and play a key role in the overall organization. A team of coordinators brings together the various projects and working groups and keeps track of the development of the entire association.
Supporting members are individuals or organizations that regularly support Degrowth Vienna financially (or in kind) and thus contribute to our overhead costs and further development of the association.
Lastly, an advisory board of researchers and professionals supports us regularly with advice and occasionally resources.
As a dynamic organization, we are open to a diversity of new projects and partnerships .
To find out more about what we do, ways to get involved or to collaborate, contact us at info@degrowthvienna.org!