DEGROWTH VIENNA 2020
Program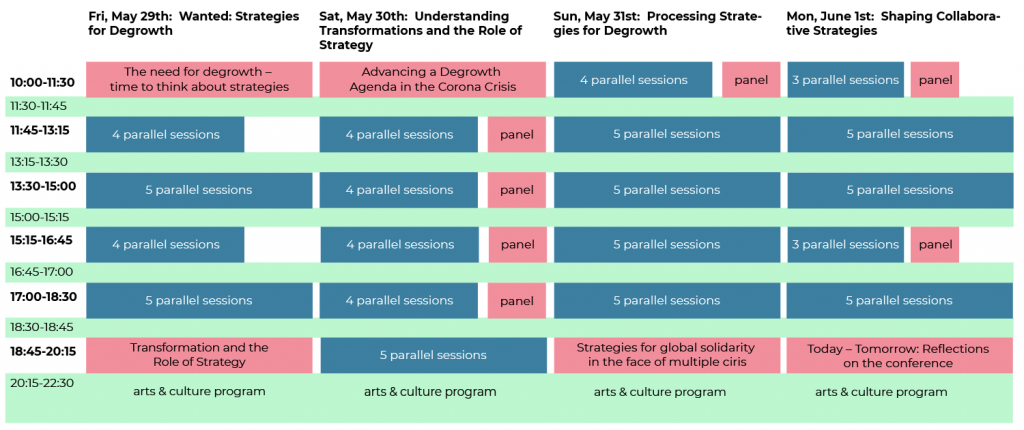 Presentations have a frontal design and are limited to a 20 minutes time slot for presentation and discussion. Each session will contain 3-4 contributions.

90 minutes sessions that are either book presentations or bring together a group of people to discuss and debate a specific topic, often through the presentation of different papers, but also in the form of a focused debate.
Workshops have a participatory design and last 90 minutes.
The Panels are aimed to frame the content of the conference and therefore held in the big room with unlimited participants. They last 90 minutes and have slightly different formats but consist of panelist's input, a panel discussion, interaction from the audience and a chosen moderator to guide the panel.
Consecutive Sessions (CS)
Consecutive Sessions include up to two 90-minute sessions within a specific thematic field of the host organization's choice. The CS are used to bring together various scholars and practitioners of a thematic field, to exchange, discuss and further develop strategies.
The arts and culture program in the evening consists of film presentations and discussion as well as music.
Times are CEST (Central European Summer Time, that is local Vienna time!)

All sessions and workshops fit up to 100 people unless indicated elsewise
FRIDAY, MAY 29TH - WANTED: STRATEGIES FOR DEGROWTH
SATURDAY, MAY 30TH - UNDERSTANDING TRANSFORMATIONS AND THE ROLE OF STRATEGY
SUNDAY, MAY 31ST - SHAPING COLLABORATIVE STRATEGIES
MONDAY, JUNE 1ST - SHAPING COLLABORATIVE STRATEGIES & LOOKING FORWARD